Here at Mountain View Low Vision Services (MVLVS), we are more than just a store. We are a doorway to hope for many in the low vision community to find the right low vision device to meet their needs. In the past three weeks, we have put the OrCam MyEye Pro device into the hands of three people. Below are their stories and how this low vision device have impacted their lives.
MEET JOE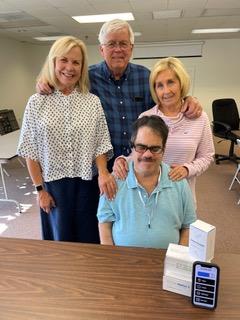 Joe makes an impact on everyone he meets. He is funny, kind and a giver rather than a taker. Joe has been blind his entire life. He works hard at his job and looks for ways to serve at his church and in his community repeatedly. He has an exceptionally kind circle of friends who decided to turn the tables and give back to Joe. They worked together and raised the funds to provide Joe with a new OrCam MyEye Pro. He is exploring all the ways this amazing device can give him greater access to visual information and, I am certain, Joe will find a way to use this device to benefit others.
MEET JOSHUA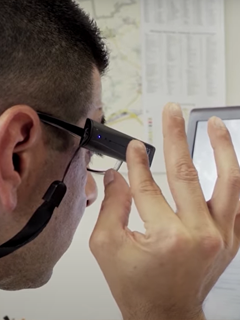 Joshua is a client of Georgia Vocational Rehabilitation and is looking to gain more independence and confidence so he can move into "next level" employment opportunities. The agency provided the OrCam MyEye Pro to Joshua, and he is still discovering ways to use the device at home, at work, and around the community.
"I am doing great with the OrCam. I love everything about it." said Joshua. "It changed my life in so many ways making me more independent."
MEET WILLIE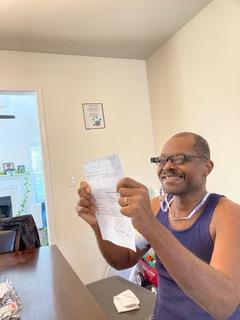 Willie and "J" are a precious married couple who both have vision loss due to diabetes. They both have hopes of getting the right tools to help them maintain independence and get back to work. The most adorable thing Willie did with his OrCam device was to teach the device his wife's face and nickname – baby girl. He was taught to adjust settings and chose to have the device repeat her name every time she was in view …. Every 10 seconds. I spent a lovely 2 hours watching him grin time after time after time as he heard that his "baby girl" was right there in front of him.
LET US HELP YOU!
These are just some of the people that we've been able to help in our surrounding Chattanooga and Hamiliton County areas. We are excited that we will be able to better serve the Chattanooga community with our new storefront opening this month! Currently, we are operating by appointment only. This can be an individual or a group from a senior living community or consumer organization. You will get focused attention and a deep dive look at all the great low vision devices in one location. Let us help you become more than what you cannot see… at home, at work, at play, and at school!